LIGHT WHEELS
Light wheels sind fusionsscheiben die aus plastik bestehen sie werden von den nebenfiguren wie osamu,takashi und akira verwendet aber auch django und ryo verwaenden sie.Sie kann man nur erhalten wen man ein Random Booster Light kauft es gibt 3 stueck.
Vol.1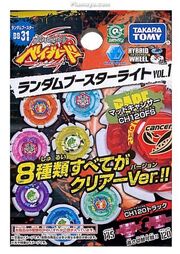 vol.2
vol.3
es gibt in jedem booster einen rare bey also den haupt bey und da gibt es mad gasher,wind aquario,clay aries
aber es gibt 4 leight wheels
wind
mad
clay
heat
Ad blocker interference detected!
Wikia is a free-to-use site that makes money from advertising. We have a modified experience for viewers using ad blockers

Wikia is not accessible if you've made further modifications. Remove the custom ad blocker rule(s) and the page will load as expected.